Interplay Design Inc. designs and builds public sculptures and sculptural environments throughout North America. Our work includes parks, playgrounds, public sculpture, play sculptures, playground sculptures, sand and water play sculptures and play environments. We use diverse mediums including concrete, bronze, mosaic, stone, terrazzo, plastics, steel and earth materials. Our sculptures range in styles from literal to abstract and provide creative play opportunities for children of all ages. Our projects start with your concept, idea or sketch. We then create unique scale models and working drawings for each custom project. Our work adheres to ASTM, CPSC and ADA standards. We custom build our sculptures in our studios or on-site. We ship anywhere, and installation can be done by you, your contractor or by us.
Tom Arie Donch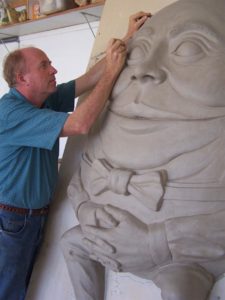 Tom Arie Donch has been designing and creating sculptural play environments for thirty-two years. He got his start in 1978 when he worked with young Fort Logan residential mental health patients in Denver Colorado to create an outdoor lion sculpture. Years of public meetings, community built projects, and over 3.000 workshops and design sessions with children have inspired a design process "that work for both children and adults".
He has worked in twenty-one different states on hundreds of installations across the U.S.A. Public parks, playgrounds, public art, monuments, skate parks, nature trails, children's' hospitals and interactive museum exhibits have all been the focus of his work. Tom is a founding member and served eighteen years on the board of directors for the Community Built Association. His work has won a number of awards and helped set new standards for play spaces. Having received certification as a NPSI playground safety inspector, he creates custom sculptural play spaces that are unique as well as meet ASTM, CPSC and ADA standards. He brings many diverse design and building skills to his work. Tom attended the University of Minnesota for undergraduate work in visual arts and community organizing and went to graduate school in community development at the University of California at Davis. He grew up in Saint Paul, Minnesota and has lived in Northern California for the past twenty four years.